The REVEALED Life is a learning platform designed for you to receive the evolved sexual education
you desire and deserve.
How to Engage in The REVEALED Life
Course, Community, and Movement:
Take REVEALED from any where in the world
REVEALED is a course to unlock your fullest potential by discovering your past. Through storytelling and personal development work you uncover and embrace your history, learning the tools to live with / in agency.
Find a REVEALED Facilitator that matches your style, language, preferences, and location, to dive deep into the work of holistic sexuality.
The REVEALED Life becomes your knowledge hub, your access to all the course materials you need, and you receive complimentary membership to all the platform benefits during your time in the course.
See the calendar of upcoming REVEALED groups here or write our team to reserve your space in and upcoming group!
Learn from
Industry Experts
The REVEALED Life Experts, TRLEx for short, is a group of individuals who excel in their field of holistic sexuality. 
Think of TRLEx as a curated gallery for professionals to share about their experience in the sexuality, wellness, and relationship worlds in a safe, authentic, fun, and educational way.
Join The REVEALED Life membership to receive access to the entire library, growing monthly, of experts sharing what they know, the challenges they face, and the joy they get doing what they do! 
We're always on the lookout for new TRLEx, feel free to suggest someone you think would be a perfect fit.
Become a
REVEALED Facilitator
For those with the desire to reach more people and facilitate the brave and bold work of REVEALED.
Join the almost 20 facilitators worldwide sharing Dr. Juliana Hauser's REVEALED course with their communities. 
The REVEALED Facilitation Course is for everyone. No prior experience or qualification necessary but there will be an interview with Dr. Juliana before you are invited to join the next group. 
Over 4 months, during weekly meetings for 2 hours you will not only take REVEALED from Dr. J, you will facilitate your first group, giving you the potential to earn back your investment before the training is over. 
What can I expect when I take REVEALED?
REVEALED can be guided in numerous ways: over a weekend, over 10 weeks, over 10 months, or over a lifetime and is for all people.
It's so important to find a facilitator that works with your lifestyle, schedule, group preferences, and needs.
Most often, REVEALED is a 10-week, or 10-month course.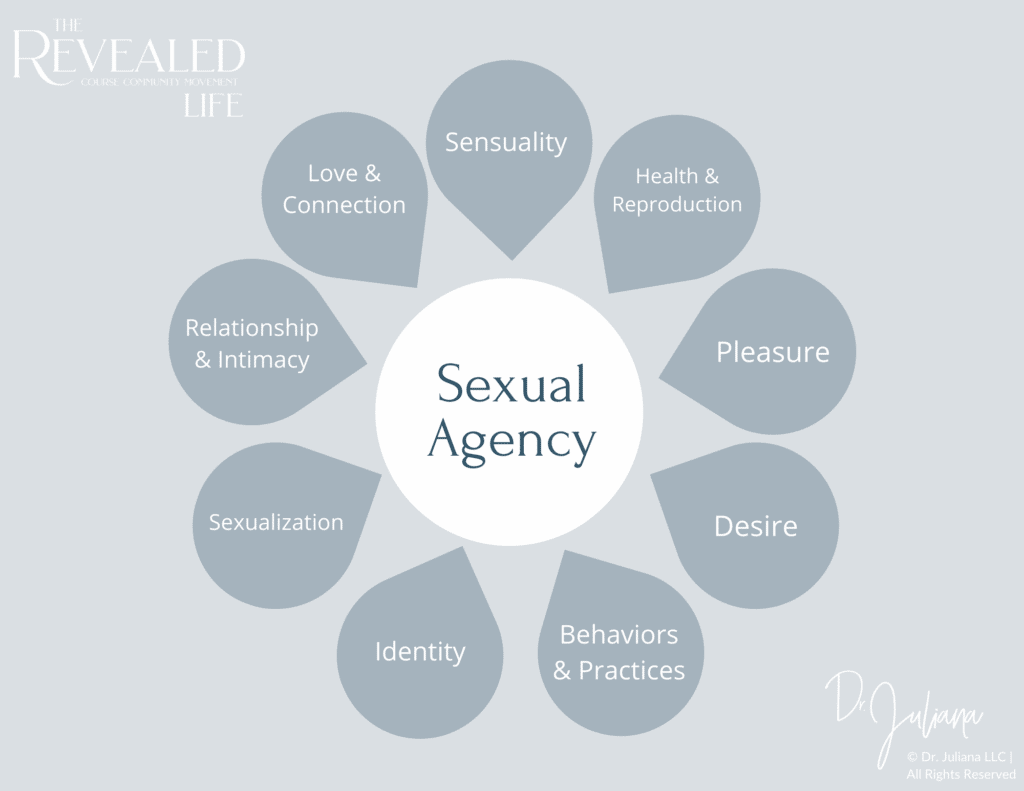 With your Certified REVEALED Facilitator you will spend time observing, dissecting, analyzing, reflecting on, and going deep into each of these pillars of holistic sexuality. REVEALED can be done privately or within a group, and can include various creative modalities including writing, music, art, dance, and more. This is up to each individual Facilitator to gauge the needs, desires, and passions of YOU to determine how best to support and guide you throughout your journey with REVEALED.
What our community has to say about REVEALED, and The REVEALED Life:
Take Pause Before Judgement
Juliana's course completely changed my life's direction. She taught me how to ask questions of myself and others, how to take pause before judgment, and to find peace and acceptance with my own needs and thoughts. She taught me to feel confident in my own skin and to feel brave in exploring my desires.
You Made it Safe to
Be Me
I don't have the words to tell you the impact it had to be witnessed, supported, and accepted. You made it safe to be me and that meant the world to me. I thank you from the bottom of my heart. I am forever changed from working with REVEALED.
The Right Support at the Right Time
REVEALED is proving to be the piece of my journey I didn't know I needed - just the right support at the right time. All this buried desire has resurfaced because of REVEALED and I sense so much progress in myself.
I Am So Grateful
I'm in awe of being able to share something that's been locked in my brain and body for so long. I am so grateful for REVEALED.
From the many who have taken REVEALED
Dr. Juliana is committed to building an equitable, anti-racist organization, company, and community. She subscribes to and honors the Anti-Racist Small Business Pledge.